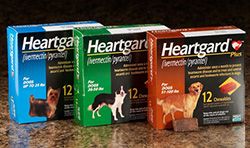 Heartgard $12.00 Mail in Rebate
Purchase a 12 month supply of Heartgard Plus and mail in for your $12.00 rebate.
​​​​​​​
Click here to see the coupon.
Trifexis Rebate
Purchase a 6 month supply of Trifexis and mail in for a $10.00 rebate or purchase a 12 month supply and mail in for a $30.00 rebate. Click images below to link to the Rebate page for the product you purchased.
Login to see your pet's medical history, vaccine reminders, to order refills and schedule appointments