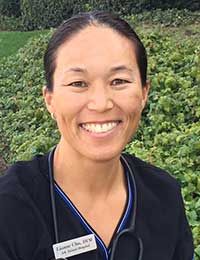 Dr. Lianne Chu is our veterinarian and business owner. She graduated from the University of California Irvine with a Bachelors's degree in biology and the University of California Davis with a Degree of Doctor of Veterinary Medicine in 1995. She has been providing veterinary care at Ark since the summer of 2008.
​​​​​​​
Her hobbies include running, triathlons, volleyball, tennis, cooking, reading, and world travel. Dr. Chu has two daughters- one is at UC Davis and the other is at Northern Arizona University. She happily shares her home with her mixed-breed running partner named Charlie Mae, Chihuahua named Tilly, Golden Retriever named Summer and two precious cats named Midas and Apollo.

Being a veterinarian has enabled Dr Chu to not only help our beloved dogs and cats but in doing so she also is helping the humans attached to them. "It's the most rewarding career I could ever ask for", says Dr Chu.
Login to see your pet's medical history, vaccine reminders, to order refills and schedule appointments