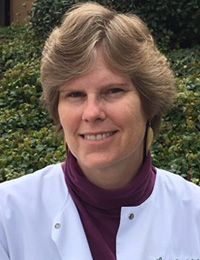 Dr. Oh received a BS in Zoology in 1989 and Doctorate in Veterinary Medicine in 1996 both from UC Davis. During her undergraduate studies she worked with a variety of animals: from dogs and cats to monkeys, horses, dairy goats and birds of prey. As a veterinary student, she co-founded Students Alleviating Pet Overpopulation, an organization focused on educating the public about the pet overpopulation problem and helping them to select pets that were the best fit for their families. She worked in the San Francisco Bay Area in small animal practice for several years after school before relocating to San Diego to be closer to family. She has lived in Poway for the past 23 years and has raised two sons with her husband Ken.

She is especially interested in geriatric and hospice care and healthy weight management programs to keep pets moving comfortably into their senior years. Her goal is to use a multi-modal approach toward pain management combining laser, nutritional and medical treatments to achieve the most comfort for her patients. Her emphasis is on thorough client education so that pet owners can take an active and informed role in the medical management of their beloved companions.

When not at work, Dr. Oh enjoys playing softball, pickleball, mountain biking, hiking and camping. She is an avid reader of fiction and science fiction and enjoys strategy game nights with her extended family and friends. She and her husband share their house with rescue dog named Dobby and an 18-year-old giant Plecostomus fish.
Login to see your pet's medical history, vaccine reminders, to order refills and schedule appointments